Always Gets a Reaction
ReactaVisc is unique.
A window into evolving molecular interactions in the fluid. Accurate, adaptable, hygienic. Precision viscosity and temperature every second, as the reaction happens.
You won't miss a thing.
Measuring viscosity in a reactor takes a special type of viscometer.
The ReactaVisc maintains accuracy under all reaction conditions and is designed to fit easily among the often overcrowded array of devices on these vessels. It can also be easily adjusted to suit varying fluid depths using Hydramotion's special HydraGland™ vessel adaptor. The result is a supremely versatile viscometer that's ideally suited to the reaction vessel environment.
It's unique to Hydramotion, there's nothing else like it. Users deploy ReactaViscs in a wide range of applications from pharmaceutical laboratory trials to industrial R&D to drug production. They describe the ReactaVisc in many ways, but mostly they call it 'invaluable'.
Viscosity With
Certainty
ReactaVisc is a versatile tool for both the laboratory and production settings.
Calibration is not affected by either vessel type or fluid conditions, so the viscometer can be used with certainty in a wide range of applications.
The right choice of materials and the non-contaminating structure of the sensor ensure the ReactaVisc remains an aseptic and inert presence in the fluid. Furthermore, since the sensing tip makes only microscopic movements any energy contribution to the reaction is negligible.
Temperature
Built In
---
Few things affect viscosity more than temperature. They go hand in hand. That's why all ReactaViscs have an integral thermometer to simultaneously keep track of both variables. By eliminating thermal effects, temperature corrected viscosity will help reveal true viscous changes taking place in the liquid.
Long
Service
---
As a solid state device the viscometer is well-suited to
long continuous duty in demanding conditions. Maintenance is negligible and with no moving parts to replace or service the ReactaVisc will be ready for use whenever you need it.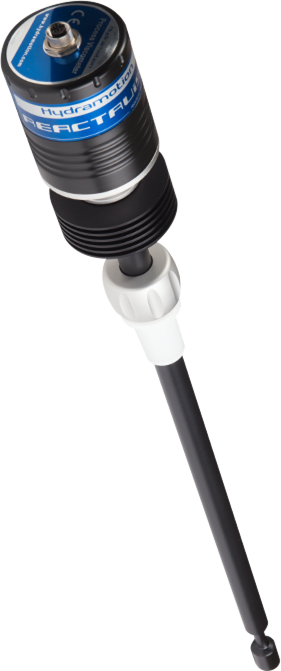 Strength
+ Sensitivity
Extremely sensitive yet robust enough to cope with everyday handling. The ReactaVisc sensor has a smooth solid alloy construction designed for tough use. At the same time it can also detect the smallest physical changes in fluid arising from activity at molecular level – even in relatively thin liquids.
Progress of reactions can be monitored in real time with hitherto unseen detail and insight. Even at elevated temperature. The ReactaVisc is specially designed to keep a cool head, unaffected by the heat in the vessel.
The narrow head takes up minimal space at the top of the vessel, leaving plenty of room for other equipment such as stirrers or condensers.

Practical
Adaptable
---
Reactors come in all shapes and sizes, and fluid levels can range widely. None of this troubles the ReactaVisc. It has been specifically designed to easily fit vessels of any capacity and accommodate variable liquid depths.
The compact sensor probe is fitted to the vessel using a purpose-made HydraGland™ Adaptor. This unique fitting is supplied with all ReactaViscs and allows sensor positioning whilst maintaining seal integrity. HydraGlands are available for all vessel port types in a choice of sizes and materials – PTFE and SS316 as standard.
The pairing of ReactaVisc and HydraGland™ Adaptor provides a practical and versatile solution to limitless vessel and port combinations. It is the perfect partner for the laboratory.

Reactavisc
You won't miss a thing